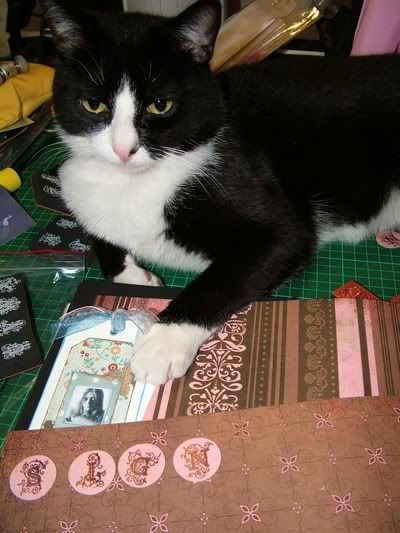 This is Jinxy. He decided to come live with us about a month ago. He turned up one night, absolutely starving, and although he was obviously a domesticated cat he was rather smelly and a bit beat up.
We took him to the vet and had him checked out, spayed and got all his shots and he is now one of the family. As you can see he has fitted in well being a scrap booker.
It doesn't really come across in photos, but he is possibly the cutest cat I have ever met. He is the best cuddler ever, and as I write he is curled up on my lap cleaning himself.
The only problem Jinxy has is an extremely gassy tummy. It'll probably take a while for proper food to help his tummy settle after living rough, but the sooner the better. At the moment he smells like he is drinking 10 pints of Guinness a night!