This week
ScrapWest
is taking a step out of the box and back into the blog!
The challenge this week, set by Eva, is to share on your blog something that inspires you. And its not just for the usual Westies - we want everyone to play ;-) So go on, share something that inspires you and leave a link to your blog over on
ScrapWest
My inspiration came in the form of this amazing sketch by
SusieQScrapbook
(Susie Costanza) who tells me she is keeping some really BIG secrets which she can't wait to share - so keep an eye on her blog over the coming weeks.
I was really thrilled with this LO as not only is Susie's design so fab, but I love how this LO captured and celebrated a very ordinary day that was special to me.
The journaling reads as follows:
How can ordinary onions make you feel so good?
It's been a rotten summer with bad weather and lots of stress. Yet a Saturday afternoon at Lismore Castle and it all seemed to fade away. There is the most beautiful working garden on the grounds, and I just fell in love with the piles of onions drying and the smell of the moist dirt.
Sometimes the ordinary can make a day extraordinary!


To help carry on the inspiration I'm giving away the kit I used to make this layout and a few extra embellishments to boot! The kit includes 4 sheets of K&Co double sided paper, 2 sheets cardstock, assorted co-ordinating primas, ribbons and buttons.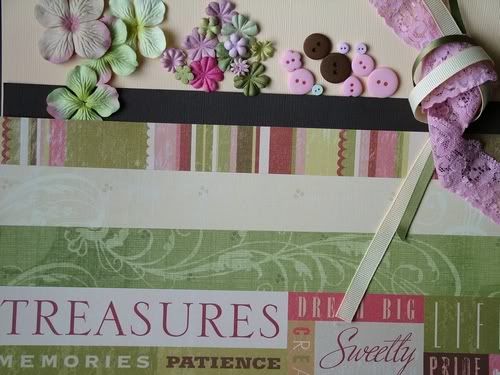 To be in with a chance to win this little bit of inspiration in a 12x12 polly bag just leave a comment on this post and check back next Friday 7th September, when I will announce the winner.

And don't forget to check out ScrapWest for more inspiration, and maybe even more blog candy ;-)