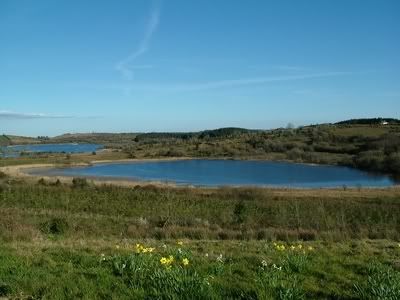 On Thursday after a leisurely lunch in the Orchard we made our way to Leitrim for our Reiki retreat weekend. With the sun shining it was like the start of school holidays, and impossible not to feel cheerful. The view that greeted us on reaching our destination was this beautiful vista of a valley with two lakes, and daffodils stirring in the gentle breeze.
While this was beautiful, the vision I woke to on Friday morning was so beautiful I tried to capture some of it on film, but I also had to write about it there and then to capture the impact it made on me.......
"Some places and times overwhelm you and force you to stop and acknowledge your own insignificance in the world. Here at 8am on Good Friday is one of those times.


The Lake below, shrouded in mist and a majestic swan sails gracefully through the enveloping mists, the water parting dramatically in his wake.
The vision moved me close to tears.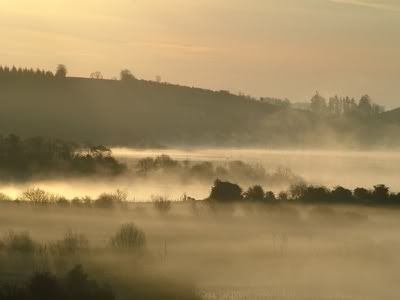 It seemed the swans' approach through the mists was a ritual acknowledgment of the morning and the beauty of this place before he returned to the mists to prepare for another day.


Such a moment in a place like this has a timeless quality. There is no 21st Century, no machines, birdsong is the predominant noise across the valley. It could almost be the land of Tír Na nÓg, or was that Aodh, Lírs' son sailing through the mists.


Regardless, just for this moment in this place I feel glad to be alive."


As an even greater honour I was initiated as a Reiki Master this weekend. The short ceremony was performed overlooking these beautiful lakes. It is almost difficult to come back to the reality of computers, internet and housework, but I will treasure the special memories of this weekend for some time to come.