Jackie set the theme this week, and after a lot of image searching I decided on this one.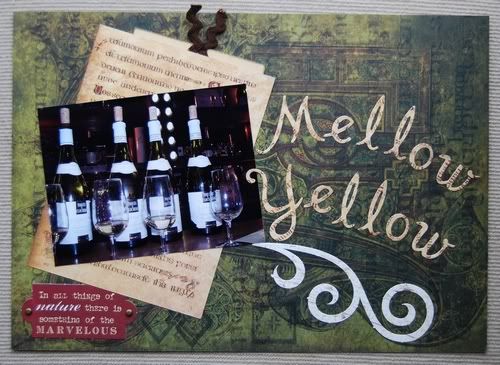 There is journalling tucked behind the photo which reads:
During our holiday to France in 2004 we spent a wonderful week in Pauligne with Carmel & Miriam. During this time we got to tour the visitor centre at Sieur d'Arques the main cave in Limoux. At the end of the tour we had the opportunity to taste some of the fabulous local wines, including the Blanquette, the Cremant and the Toques et Clochers.

"Toques et Clocher"- started in 1990. The Sieur d'Arques villages each donate two barrels of chardonnay, these are then auctioned off on the weekend of Palm Sunday to audience of restaurateurs and wine negotiators from all over France and the world who are assembled to taste and buy last year's vintage. The proceeds from these 82 barrels is then used to restore the bells and bell tower in one of the villages- 2002 Pauligne, 2003 Campagne-sur-Aude. The label "Toques et Clocher" can be found on many of the local wines from the cave and for the whites particularly is a mark of excellence.