This week for ScrapWest I just had to create something to celebrate the wonderful time I had a
Scrap-a-ganza
. As the challenge was "Tags" set by Carrie I decided to create my own memory tag book of the weekend, with photos and journaling of my favourite bits!
I used bazzill bling cardstock and the exclusive just released, bright and funky Prinx Green papers which I was given at Scrap-a-ganza by Henk of
ScrapArt
.
The Best Bits
The first tag is the Scrap-s-ganza logo and dates of the event. The journaling reads;
"It started as a glint in Elaine's eye and turned into the best weekend of scrapping ever!
There were so many great moments over the weekend that I wanted to preserve the memories of some of the best bits."
Shopping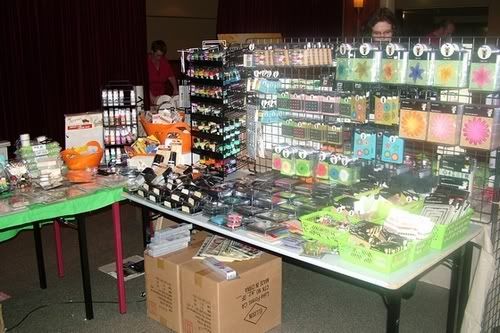 The shopping was overwhelming. I spent a fortune, but got so much stash! I checked in 21kg and carried 10kg more onto the plane on the return journey. It was great to see so many new papers and stash, and the 'pizza box' bargain shop was brilliant!
Winning a Prize
In fact I won 2 prizes, the first a give away at the Making Memories class with the "2 Jodie's", the second was for a card I entered into a competition. I was so thrilled to win something for my effort, and I really liked the prize kit too!!

Crafting
Even amidst the madness I managed a teeny bit of scrapping. I did 9 classes ~ none yet quite complete, but I learned so much. I spent time in the crop room finishing bits. And as ever it was an amazing opportunity to see what other seriously talented scrappers were up to!
Meeting Lisa


Definitely a highlight ~ meeting with Lisa Bearnson the founder of
Creating Keepsakes
magazine. She gave the most inspirational talk during the 2 hour class we attended with her, it was truly moving. She reminded us of the importance of spending more time creating the happy memories we scrapbook. In her words, "To scrap happy, you have to live a happy life".

Time Out

There wasn't a lot of this, but I snatched a few moments in the park on Saturday evening. While it was lovely sitting in the sun feeling the spray of the fountain, it stung how much I missed Joe, I don't really like to visit new places without him as I invariably want to share the experience with him.
My Roomie
Spending time with Joanne was a brilliant added bonus! Not only is she the best fun but also she has a much deeper side. It was magic having the chance to talk to her late into the night, and play gin rummy with giant scrapping cards. I know I've made a very special new friend.