It seems like forever since I did some scrapping that wasn't for a challenge. Of course with moving house imminent and my Mums birthday in September rapidly approaching I figured I'd better get moving on her surprise birthday book! Here are 2 LOs I completed for it.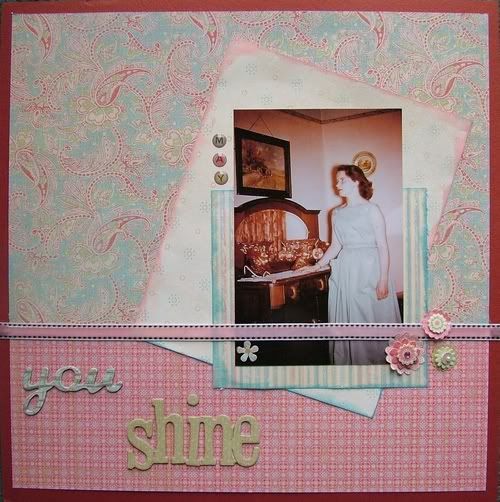 "You Shine" was taken in my Grans house, and I guess it must have been when May was still a teenager. Believe it or not the dresser with the orange glass wear, and the picture on the wall are all still in exactly the same spot 50 years on. Only the wallpaper has changed ;-) I got these fab K & Co papers at Scrap-a-ganza and was delighted to get to use them for this photo. I just love the innocence and dream like quality of the image.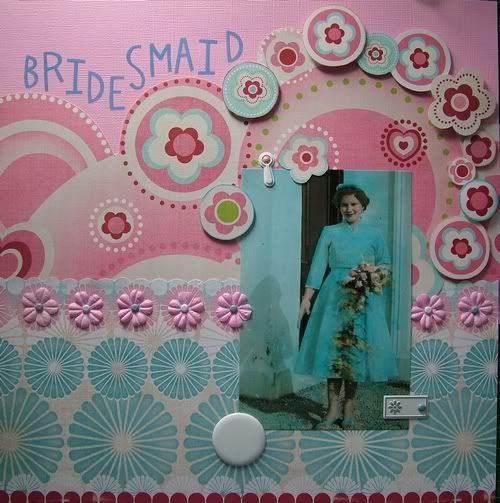 This is a tinted photo of May at a friends wedding. Given the 'dated' feel of the image I was surprised that it went so well with these funky Sassafras Lass papers (from
The Scrapbook Store
), but I was really pleased with the result.
I'm getting excited now about the book. I showed it to my Gran and her reaction was so positive that I can't wait to see Mums face. Also Gran contributed her own piece for the book which you can see on ScrapWest this Friday - please drop in and take a look, I love to hear your feedback!