I'm so delighted with Cheryls course, I can't tell you!
Last week my dramatic shot of Joe got in 'Images of the Week', so I am over the moon about that. And I've just found out I've been shortlisted for 'Images of the Week' again this week!
My 'Frame the Shot' entries were taken at Leixlip Confey Train Station.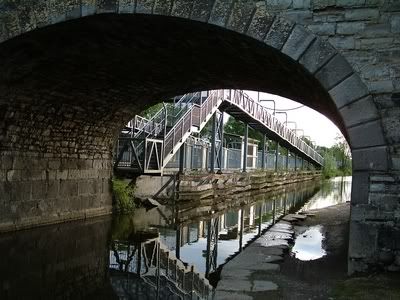 I decided to take a stroll, between showers, one evening last week to see if I could snap anything for the assignment. I had in mind some natural style image framed by trees, or some such. Of course, the final product is nothing of the sort.
Instead I took these rather industrial looking images of Confey Train Station from the canal. But aren't they striking?
I was lucky to catch the lovely soft evening light as it reflected in the water and also from the metal railings.
The second image has been shortlisted by Cheryl, and it is my favourite, although only just. Up close the wooden sidings on the canal in no. 1 are so textured and the colouring in them is fab, and no. 3 somehow manages to be dramatic and yet dreamy at once.